I've decided that this will be my last post for 2021. It's time to let go of trying to educate people that either can't, or don't want to see, hear or talk about what is really going on. If the past two years haven't been an eye opener as to what is really going on, then there's no point trying to awaken those that aren't ready or willing for any number of reasons including the mass conscious imprints, programs and beliefs as explained in the Hitler quote. Denials are ending and the truth is being revealed and for those that choose to remain in denial, it's their choice and they'll have to take responsibility for their choices.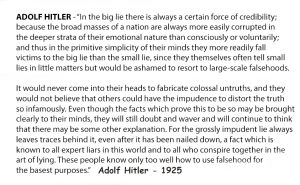 Hitler's quote offers key insights into how-to unplug oneself from the matrix of mass conscious mind control and end the cycle of oppression and abuse. To empower yourself, you need to do the opposite of what you have been doing. The present system can't be fixed by using the same mindset that created it; where lies, omittance, avoidance, denial and heartless are the order of the day.
It's been difficult letting go of trying to get society to see and feel what I see and feel, but I feel I've spent enough time on that, and now it's time to move on. I'll not be posting topics on covid, its "variants," the "vaccines," lockdowns, or what the governments, medical, media and military are doing or planning to do. I've been procrastinating long enough, and in the new year I'll be changing the format of my blog focusing on healing all aspects of our being and in self-empowerment. Part of the new format twill include personal vlogging.
See you in the new year.