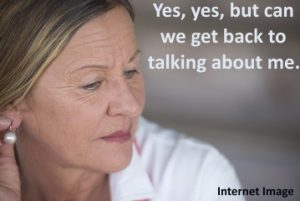 I'm not going to go into all the details that played themselves out over the past few months suffice to say that they all came to a head within three days.  What became clear was that she was not as helpless as she pretended to be, and that a lot of her lies, secrets, avoidance, omissions and denials were exposed for what they were.  She was not only playing me, but my son and daughter, her friends and even acquaintances on the internet.  She was acting out the "oh poor me" and using whoever and whatever she could to get attention, even if it was negative, it was still attention. She is a self-centered self-absorbed Narcissist and an energy vampire. Her house of cards is crumbling and her reality is quickly changing. As I now see it, she has two choices;
take responsibly for her thoughts and actions and make the positive changes or,
Remain the narcissist and nothing changes.
It will be interesting to see what develops in the coming months now that her little game has blown up in her face.
Attachments that are OBVIOUS are easy to spot and release, but it's the little issues that you don't see that still form the attachment. In uncovering my attachments and ending my denials, I realized that as we were still on a friendly basis and since she is what is considered bi-polar, and has other illnesses, (judgments and attachments) and so I silently (in denial) put up with her blatant lies and denials, saying that is just the way she is, and instead, focused on trying to help her and find the good in her.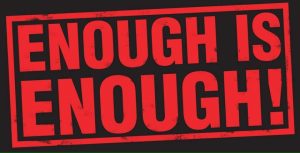 Not challenging her blatant denial, lies, omission and avoidance, as in not wanting to upset her, I was in denial and unconsciously allowed her to use those against me. The sick "twist" in all this is that at times she really needed help, but other times it was just a game and she was acting the "oh poor me" to get whatever power she could by knowing she was controlling the another being. The more I allowed, the more she used them against me in the form of getting me to do things for her that affected my time, energy and money, to the point that this past weekend, I saw exactly what she was doing and what I was allowing her to do, via the unseen role of denial, judgments and attachments. When I called her out on her denials and lies, and stated that I was finished helping her and empowering her "oh poor me" reality, our attachments were broken and I was free, while she was left to deal with her denials in your own way and to take, or not take, responsibility for her well being.
The unseen role of denial that I didn't see with my ex-wife's scenario was that in my Spirit (mind) and the Spirit polarity aspect of my Heart, that defines love by words and deeds and not by how it feels, thought that I was being kind, caring, sharing, considerate, compassionate, etc., etc., for those that I judged to be less fortunate.  That "less fortunate" judgment (that I now release) has an unloving aspect to it that of a false sense of pride, in that it silently and smugly deems me to be superior or better than, or in a better position than another. The opposite side of my outer judgments says that if I have judgments of being better than others, I must also have the judgment on self that I'm not as fortunate as good as some other people.
So the realization was that this doesn't just apply to my ex-wife, but to everyone that I'm in contact with. The subtle judgments, the false pride, the trying to be nice, even to an asshole because he/she is drunk or on drugs or whatever, are all things that I need to release to really empower myself on all levels. How this played out in my outer reality was that my ex-wife was ACTING like she needed help and asking for it, either directly or indirectly. These weren't an "in the moment" type situations or experiences of helping another that you could see and feel were in need of help, but on an attachment and judgment level based on past experiences and old imprints, programs and beliefs of what the person appeared to be going through and needing help with.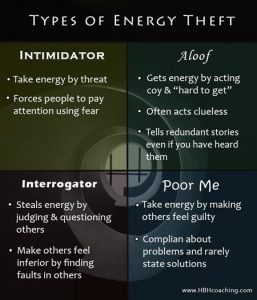 While this may seem like it's not a big deal, I assure you it is, as guilt and shame are constantly at me, trying to get me to reverse my position, to be responsible and be the "nice" guy again.  Like I said, this isn't just about my ex-wife, but how I respond to all that I come in contact with. It's a new way of seeing that just because someone looks like they are the victim and in need of help, doesn't mean that they are. They just play the "Oh poor me" game from another angle and don't be fooled, it is effective. Besides the Oh poor me, the other major game players in the energy sucking power game are the intimidator, the interrogator, and the aloft.  Some are quite good at using two or more power plays to get what they want and will flip back and forth at easy. Recognizing them is the first step at ending their control over you. . It's been a while since I read it, but I think these are outlined in the book, "Celestine Prophecy" by James Redfield.