I saw a post on MeWe (USA) that stated there was no law (on the books) regarding covid. That rung a bell with me and so I came up with this meme.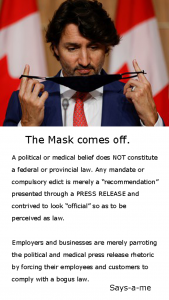 So if you wondered why provinces and cities had their own covid, mask and vax rules.. you now know why… If you bought into the orchestrated press releases… you were duped.
Reminds me of Orson Well's, "War of the Worlds" Radio broadcast that people believed was true and sent them into a panic.
It's also a reminder of the POWER of the WORD to stir the mind and emotions. To inspire the imagination or instill fear and loathing..