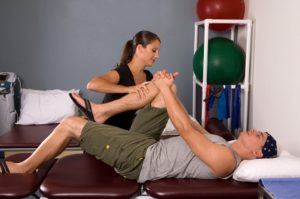 A couple of weeks ago, as I was waking up and feeling my neck and right shoulder achy and sore, I had a realization. Since my car accident back in December of 2014, I've been having issues with my neck and right shoulder / arm. Physiotherapy was of no help, in fact it caused more damage. Since then, I've searched the internet for exercises and stretches that would help, but none have worked, or if they did, it was only temporary.
What I realized is that they all require you to contract some muscles while trying to stretch others and that doesn't work as you are working against yourself. Routines like holding a strap tied to a fixed object and then trying to stretch the arm with the same hand and arm doesn't work as one set of muscles is holding the strap, while the others are stretching. The thing is that they are all muscles are interconnected and go into the shoulder, upper back, and neck that then creates tension and pain and makes matters worse.
What I found was to clasp my hands together, inter locking my fingers, and then grabbing my knees and letting my leg exert pressure to stretch my arm, shoulder and neck. BINGO .!  It works. All the muscles in my arm, shoulder and neck are relaxed and when I begin to push out with my knee, I can feel the stretch in all those parts. I can control the tension with my knee and I can also control the rotation to the sides, using either my right or left knee to do the stretching.
While my arm, shoulder and neck are sorer than before the stretch, I can feel and hear my neck vertebra cracking more than before, while at the same time I feel I have more mobility and can move my head easier with less pain. I feel it's now stretching the knots and scar tissue that has formed in the muscles and ligaments during the past two years. Yesterday, I saw my chiropractor and told him about my findings, and he noticed an improvement since the last time I saw him before Christmas.
This picture is actually of a guy pulling his leg toward his chest.  It was the only one I could find where he had his fingers interlocked over his knee. So in my case, instead of pulling the knee with my arms, I use my leg to pull my arms, shoulders and neck muscles.