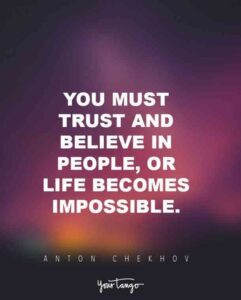 I know that many people believe this meme to be a truth, but when you really look at it, you begin to see the flaws in that logic and ideal.
Firstly, you must trust and believe in yourself, or all else is meaningless; because if you don't, then like the meme states, you put your trust in others to save you or whatever you feel it is that you can't do but they can.
If you have ANY doubts about what the other person's intent is by what they say or do, or doesn't say or do, you need to ask direct questions to clear the air. Also, don't just go by what the person says or does, FEEL if what they are saying and doing feels genuine and loving. If not, state what you feel and ask more direct questions.
By asking direct questions, you'll uncover their true intent, Quite often they are trying to control or manipulate you in some way through the use of lies, omission, avoidance and denial, and these are often coupled with intimidation, withdrawal, or the use of guilt or shame to get you to believe and trust them and give them your power by way of your denials of self
I have a saying… "if in doubt, give yourself the benefit of the doubt." They might not like it, but your purpose in life is not to please and make others happy at the expense of yourself.