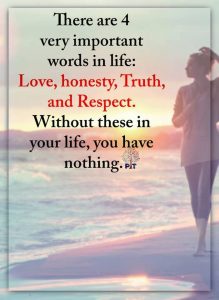 While on the "surface" this seems like an OK meme – BUT – when you really feel and think into it, it's twisted. Yes, it has a part-truth in it, and that is how "they" set you up for the rest. I say set up as it was either done intentionally, or, the person is just presently ignorant as to what love is, and has the belief that it needs to include other words to give it meaning (which is love, but love  with conditions) which isn't what he/she was talking about.
Let me explain. Three of these words are really meaningless. If a person knows and feels what real love is, by real, I mean unconditional, and NO, you don't have to die and go to heaven to experience unconditional love, and NO, your dog doesn't give you unconditional love either. You can experience here on Earth if you just stop bull-shitting yourself and denying what you are really feeling and be real, honest and truthful and have respect for your soulful expression.
OK, I digressed . LOL – The only important word is LOVE. If you have love in whatever or with whoever you are experiencing, then honesty, truth and  respect are a natural given, as those are an intrinsic part of what Unconditional love (without conditions) is.  You don't have to go and demand respect, honesty and truth, if real love is present.
Anyway, Food for thought – or not. 🙂