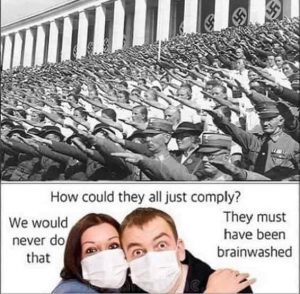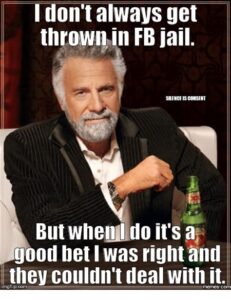 I've had it with Facebook and their fascist tactics. Over the past few months, I had several posts fact-checked and labeled as false, or deleted because they did not comply to community standards. Finally, they banned me for a month and I just out a few days ago. I was banned for posting this meme of Germany and mask wearers.
A friend suggested MeWe a few months ago, and while I joined, I was reluctant to start over. I feel that now it's time to not only start over, but also time for a change and that I'll be heading in a new direction. I'm no longer going to try to wake people up to the present unloving and corrupt old world reality. I've been posting for years and if they can't see and feel it by now, so be it. Instead, I'm going to focus on connecting with other like-minded and like-feeling people and help create a new reality. How? I don't know…. yet. The old world reality is and will collapse, and like the phoenix, the new reality will emerge from its ashes.
I've also started two groups at MeWe. One is called the Heart Centre that deals with feeling, healing and understanding emotions and much more, and the other is a RUOW (Right Use Of Will) group for those working with those books. If you care to join me at MeWe, my link is shenreed  My previous post says 428 was the beginning of my new path.