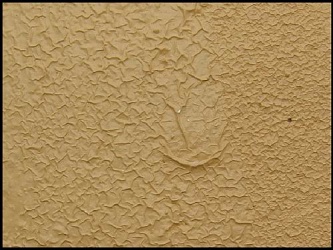 2013 Jan 01 Yesterday I bought some TSP cleaner to wash the walls and remove the smoke film. I began in the kitchen where the landlord had used Spray Nine yesterday to see if there was any problem with the product. There was none so I continued with the rest of the kitchen. I then began on a wall in the living room/bedroom and then made my way around the entire room. Next I tackled the bathroom and closet door. Just before supper I pulled out the fridge and washed the sides and walls and then washed the upper kitchen cupboards and before stopping for supper.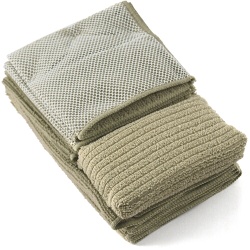 After supper, I cleaned the bottom cupboard and I was finished… or so I thought. As I was cleaning, I was shocked and heartbroken to see the finish peeling and blistering and falling off like dry or sun burnt skin or fish scales. I washed it with clear water again and again but nothing helped. I decided to let it dry and see what it looked like in the morning. The only thing I can think of that I did differently was use the Spray Nine he had left as I felt that the TSP hadn't really cleaned the bottom section like it did the top. There had to be a chemical reaction with the TSP, Spray Nine and the finish to create such an effect. The thing was that it didn't affect the stain under the clear finish, just the thin clear finish that I was able to scrape off with my finger nail or a soft plastic non scratch pot scrubber. I was prepared to pay to have them re-finished or to buy new front component replacements. Needless to say, I didn't have a good sleep that night.
The next morning I called the landlord and told him what happened and he said he would be out in the afternoon to look at it. When he arrived, he said that he thought about the problem last night and said the problem was his, as he had sprayed the bottom units with a clear coat. He also said that he would fix it. He removed the doors to take with him.
He also had a look at the ceiling fan and light that wasn't working except on full speed and bright light, and thought it might be a bad remote control. We also exchanged a brown recliner for another blue swivel rocker he had.