A few days ago I read on a post on Facebook regarding Africa and the Middle East, and stating that Africa was way bigger that was shown on any maps, as was Asia. Today I did a search for "Land area of the continents" and found this link at the top of the list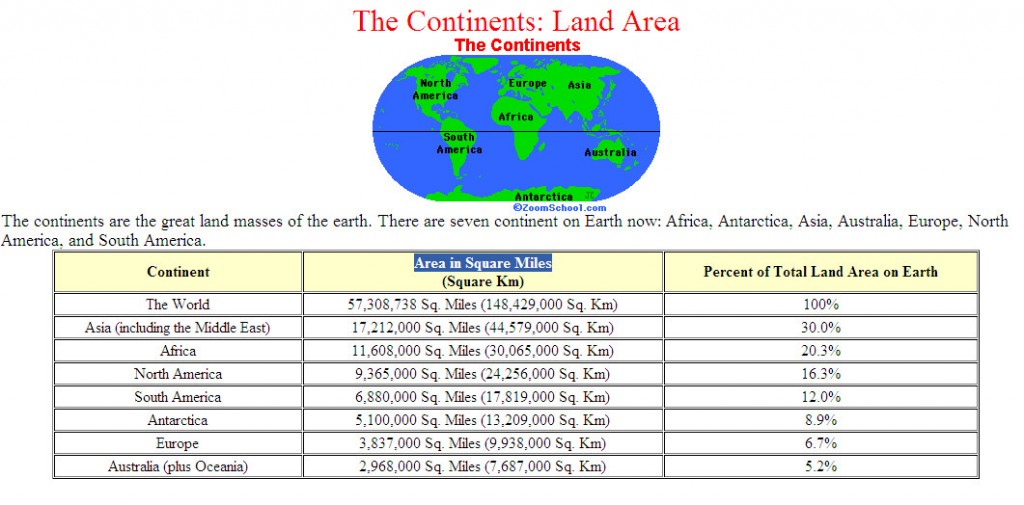 It shows a small distorted image of the continental land masses, but it also shows a spread sheet with the actual size in square kilometers. You can take all of North America, (Canada, USA, Mexico, central America) and Australia, and it would just cover Africa.. Asia is almost twice the size of North America, yet here it is shown as being equal to North America..
If you do a search with Google Maps you will also see this distorted view of our World. It's as if the USA (And I'm saying USA as they are the major world power at present) has decided that it is the centre of the World and therefor, North America, of which it is a part of, has to be BIG… (Texas Logic) 🙂
There is no logical reason why the maps can't be drawn to scale.. It's a no brainer, especially when you have access to US satellite images, that by the way, are also contributing to this lie.
While I'm on the topic, why is it that you never see any satellite images of the North and South Pole.. They have satellites circling in polar orbits, surely, they can provide images of our entire planet, and in a real and truth manner, not this distorted view that we have come to accept as TRUTH..
This is not the truth. This is yet another bare face lie that needs to be exposed for what it is.
PS: It's laughable.. I just thought of some future archeologist's digging up some ruins and finding the present day version of the world map.. They would have a good laugh, in the same way we laughed at the middle age thinking the world was flat.. They would also be puzzled in that they would also discover modern day satellite images of the moon and other planets, yet Earth is so mis-represented..
The problem appears to be that the so-called Cartographers haven't found a way to transfer the size and shapes on a sphere to a 2 dimensional layout. Given all the modern satellite technology and powerful computers, it should be child's play, but no, they still appear to be using the same technology that Christoper Columbus did when he proved the Earth was round. Even without satellites and computers, they have the known land areas for each continent, yet these blind buffoons are unable to even make an educated guess and give each continent the proper proportions to make a realistic map. So much for modern Science..
PS: I made this composite of two satellite images of Earth, of North and South America, and Africa and Europe, with the Earth being the same diameter..