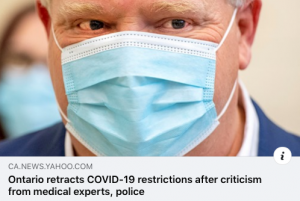 First the so-called "government" makes laws aimed at reducing covid transmission that everyone must obey. BUT… when police and medical professionals publicly stated they would NOT COMPLY… well guess what. FORD, tucked his little tail between his legs and backtracked.
What is important here is that the "laws" the government push are NOT MANDATORY… If that were the case, then police, doctors and other professionals would also have to COMPLY and CONSENT to follow them, and not DISOBEY.
AND… if the ex-drug pusher Ford really believed his new law, that his so-called medical experts and top doctor all stated were true, then he wouldn't be back-tracking would he. When you stand up to a POS pretending to be King Ford, you soon find out that he is indeed… King Shit of Turd Island. That just doesn't apply to Furd, but to anyone that claims to have "authority" over you.