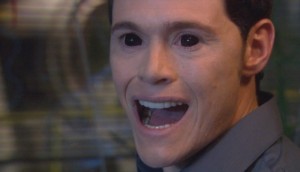 2012 Sept 25, I drove into Woodstock to look at a room that I saw listed on Kijiji. It turns out that the man is dying of cancer and has only a few months left to live. It started out in his colon, then moved to his liver and is now in his lymph glands, that can't be operated on. He said that he maybe has four months, and that he hopes to see this Christmas, but that he doubts he will see another one. He said that besides having his colon removed, he had 5/8 of his liver removed, as well as a node that they later found on it. He now has a hernia protruding out of his abdomen where his liver used to be. He looks fine and healthy while he is sitting down. He seems quite calm, cool and collected in talking about his illness and imminent death, but that is NOT what is really going on. He's a walking dead man. How does one deal with that? Again, I'm witnessing what is going on behind the scenes.
While we were talking, his wife took a phone call and went outside on the patio to talk. I asked him why he wants to rent out a room, something that they have never done before, if he has all this going on as it will just add stress to your relationship with your wife that is working and also looking after you. He didn't reply to my questions, but said that another person, a nurse, was coming over later this afternoon to have a look at the room and that if she didn't want it, that I could have it. I said that a nurse staying here would be of help to him and his wife as she could provide some assistance if needed. With that, I said my goodbyes and left.
2012 Sept 26, I received an email stating that the room had been taken.