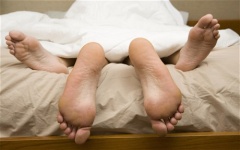 2012 Feb 19 12:30 am Sunday, I just had a memory flashback of not wanting to die and how panicked my Mind was. It was in morbid terror, not wanting to die.  I don't know where this feeling and image came from as I was just drifting off to sleep when I was startled by it.
A few seconds later I had flashed back to my childhood when my mother tried to drown me and how I felt free when my Spirit was out of my Body,  Hovering above my Body that lay still and motionless in a small bathtub, relieved that it (the hate) was finally over and that now I could have peace.
Then I flashed back to the night I was conceived and again the feelings of not wanting to be here, as there was no love.  Although they were married, my father was basically raping my mother. But this feeling of wanting to leave feels different than the previous one. It's more like Heart feeling he didn't want to be here as it was not the love and life he desired, or expected.
Humm, this is getting complicated.