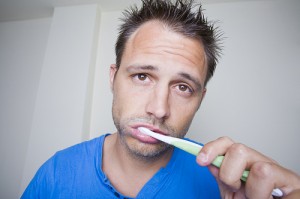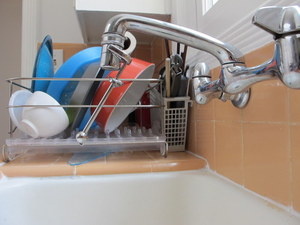 2012 Oct 04 I had previously noticed a toothbrush and a tube of toothpaste on the kitchen window above the sink, and this morning as I was eating breakfast at the kitchen counter, Paul was brushing his teeth in the kitchen sink. I made the comment that living here was like living in a cabin in the bush, one bowl for everything. After a brief discussion, he said that he doesn't like brushing his teeth in the bathroom sinks as he doesn't like to clean up afterwards. I commented, so, you rather make a mess in the kitchen sink where we prepare our food and wash our dishes. He thought for a moment and said that he would not do it anymore if it upset me, which I said it did.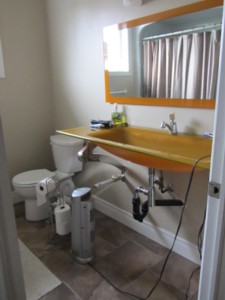 Paul has a large orange translucent sink in the bathroom upstairs, but that's it. There is no cabinetry hiding the rough plumbing job and the sink is actually 3-4 inches too high for it to be comfortable unless you are over six feet tall and he is my height. The sink is about 4 feet wide, and 3.5 feet of that is the actual basin of the sink so there is very little counter space. There is a matching mirror on the wall, but that is all there is, there is no bathroom cabinet so everything just has to lay on the limited flat surface of the sink, or on the toilet tank. The bathroom on the main level has a clear glass sink and again there are no cabinets to store anything. It's all for presentation and not functional. I said, it looks nice but they are basically useless.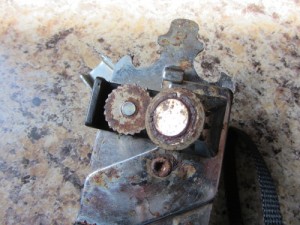 While I was at it, I went over to the cutlery drawer and pulled out a disgusting can-opener and showed it to him. I asked him why it was in the drawer along with clean utensils. It was disgusting as it was rusty and caked with old and rotten food. He said that he didn't use it, that he used the new one. I said that's great, but why keep it in the drawer with the new one and the other kitchen utensils when it should be in the garbage. He took it and threw it in the garbage can under the sink. With that, I said that was my bitching for the day. He laughed it off as he went out the door to go to work. PS: The picture of the can opener is the actual one…
I also realized that the actions of Paul and his friend last night remind me of high school and my trying to hang out with assholes like them that just want to get drunk and fucked. I had issues with them back then and it's back in my face again. Hummmm?