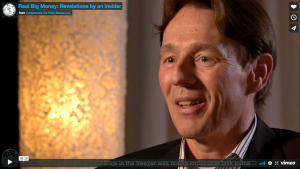 Watch the video at the bottom of the page in the link in blue. It's just over 30 minutes, but well worth the time. It's an eye opener. It's Dutch with English subtitles. You might want to have paper and pen handy.
<quote>  Ronald Bernard is a Dutch entrepreneur whose drive and business contacts quickly catapulted him into the world of the financial elite. However, the deeper into this world Bernard went, the more horrifying it became. In a jaw-dropping interview with De Vrije Media, Bernard details this dark and depraved elite society which he says conducted human sacrifice and celebrated destruction. <end quote>
<quote> As the Free Thought Project has reported extensively, division is the main tactic of the ruling class to force submission of the populace. As long as people remain busy fighting among themselves, they never stop to look at the rulers who are robbing them blind, using their children to fight wars for profit, and leaving them holding the bill.
Whether or not you believe everything or anything in the video below, evidence of the effects of divide and conquer is all around us and it's working. As Bernard notes, the solution to this problem is a simple one — unity.<end quote>