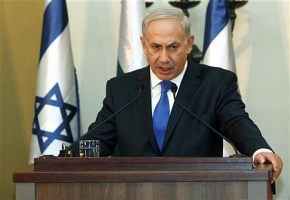 2012 Sept 17 Monday Iran on brink of nuclear bomb in six-seven months: Netanyahu
"Israeli Prime Minister Benjamin Netanyahu warned on Sunday that Iran was just six to seven months away from the brink of being able to build a nuclear bomb."
"Netanyahu's sharpened rhetoric in recent days had stoked speculation that Israel might attack Iran before the U.S. election, believing that Obama would give it military help and not risk alienating pro-Israeli voters."
"It's the same fanaticism that you see storming your embassies today. You want these fanatics to have nuclear weapons?" Netanyahu asked in the NBC interview, in a clear emotional appeal to Americans still reeling from the angry protests sparked by a film that mocked the Prophet Mohammad."
*****************************************************************************
What he's NOT saying, what is being denied is that Israel has a stockpile of Nuclear weapons, and has had for decades. As long as they are the only country in the Middle East with nuclear weapons, they don't want anyone else with the same capabilities as that would neutralize base of power, which of course, is backed by the USA.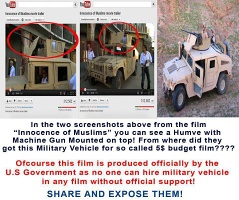 What he's also not saying about the recent events and killing of US embassy staff is that the people were provoked by the recent release of the film, "Innocence of Muslims," which is an anti Islam video that claims Islam is a lie and that Mohammed was a pedophile. Muslims are reacting to this religious insult just as Christians would also be outraged if anyone mocked Jesus, or Jews reacting to any anti Moses propaganda. Just because they're Muslims reacting to their religious beliefs, they are called fanatics, while if that happened to Christians or Jews, their violent outbursts would be deemed justified.
The thing that is starting to come out about this film is that the film was endorsed and funded by the US government. Similar to the recent Colorado "Dark Knight Batman" Theatre Massacre, there is also a cover-up going on as things don't add up and clearly points the finger at the US government and their agencies.
UPDATE:
Iran on brink of nuclear bomb in six-seven months: Netanyahu
Who's Sabotaging Iran's Nuclear Program?