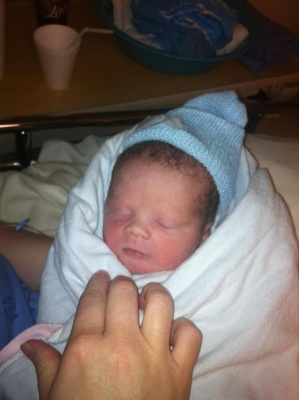 June 10 Sunday, 5:30 pm I arrived in Woodstock and stayed at my ex-wife's apartment while I looked for a place to stay. I arrived on Sunday evening and my daughter who was expecting and out visiting friends, went into labour and had boy (Max) 5 lbs 12 oz at around 4:00 am on Monday morning.
June 11, My first order of business was to get my vehicle safety inspected and emissions tested so that I could get it licensed. It passed with flying colours, but I had a haste with a woman at the license place who tried to make me believe that the Saskatchewan dealer never gave me the proper papers.
I called the dealer and while he was on the phone, I tried to get her to talk to him so that he could send down the missing papers, but she refused. She reluctantly said she would call head office while I waited to the side. I thanked the salesman from Regina Honda for his time and ended the call and waited.
It turned out that while she was on the telephone, I overheard the ignorant bitch say that she had never registered a vehicle from Saskatchewan. She then asked me for the same papers I gave her before and not saying a word, she did her job as she was walked through the process. She then tried to charge me GST that I had already paid in Saskatchewan and I called her on that, and she quietly corrected her mistake. There was no need to say anything more as she knew, her co-workers knew and all the 15 people waiting in line knew that she had fucked up as I overheard those that had been in line when I was having the issue, tell the others who were asking what the problem was.
June 13, I found a place and will be moving in on June 14. It's an old Victorian house with 5 rooms on the second floor that are being rented out. There are presently two young guys and one woman living there and another woman will be moving in on Saturday. I have one of the largest rooms, measuring about 15 x 15 feet with a closet. It also has a queen size bed, night table, dresser, bookshelf, computer table, small drop-leaf table with two chairs, a small bar fridge, LCD TV, cable TV and wireless internet. We all share the kitchen and washroom that are also quite large.