Doing a little catch up here, not completely, but an important experience.
On Dec 03, A woman went through a red light and I T-boned her GMC Yukon with my 2000 Honda CRV. I was taken to hospital, X-rayed and released.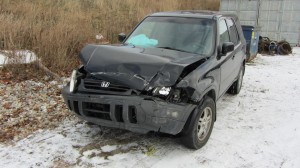 Now to my story……..
Well I'm slowly finding out what the car accident was all about, and that it was yet another step in healing and also in manifesting.. The woman that ran the red light had no intent to run it, and to cause me pain and suffering, it was just a momentary lapse of awareness, and it happened because it was meant to happen, for her benefit and mine, although at the time, it didn't feel that way, and that is because there is more to it, things that had to unfold, to be experienced.
Now the medical system and the insurance company added to my plight and during all this I felt I had no choice, and that I had to just accept what happened as fate, what I deserved for whatever reason.. The insurance company doing their best to reimburse me as little as possible. BTW, in all this self hatred, guilt and shame had no voice, and this is interesting as I will now get to that.
For days, I searched the internet (Kijiji) and after some 90 possible vehicles, and 9 different makes, I decided on three, Hyundai, Mitisubishi and Honda Element, and then narrowed it down to 2005-2006.. Before I contacted any, I looked to see what the car dealers had in Woodstock, and just to see how it felt, I test drove a 2007 Hyundi that was way over priced… On Dec. 11, I contacted the dealer selling a 2006 Hyundai and made arrangements to see the following day.
Now we get to the next phase. Little did I know that it just so happened, that another person in the scheme of things, also had a momentary lapse in awareness and had entered the retail price of the 2006 Santa Fe wrong. Instead of $7,995, they entered $5,995. That mistake didn't cause me pain an suffering, in fact, the reverse. Now to add to this, the sales lady never picked up on the error, and also offered me an additional $1,000 off the vehicle.. It was only when she pulled the file to write it up my purchase, that she spotted the error.
She said we had to wait for the accountant to come back from lunch, so while I waited, she was talking to other staff. She also asked if she could see the copy of the company web page I had printed and taken with me that showed the listed price, that I had previously shown her. I didn't know what was going on until later, when she put the folder on her desk and I saw the price in the top right had corner. I was confused and didn't ask, and she didn't say anything was wrong, so when the accountant came in, I signed on the dotted line and gave them a deposit. My vehicle had yet to be safetied and e-tested and I was told it would be ready on Tuesday.

Now when I left the dealer, GUILT and SHAME were all over me, saying I was bad, that what I did was wrong, that I should go back and make things right. That I was stealing, that someone is going to get into trouble if I didn't, and yadda yadda yadda. As all this was going on, I knew I had no intent to steal, and I also had no intent to do as GUILT and SHAME wanted me to do and that was to SAVE another or to reimburse the company. Guilt is NOT love or loving..
I find it amazing how the universe responds when you ask to heal your issues and move forward. It might not be in the way you think it should be, and it will be painful, BUT, if you look deeper, you always find the hidden gem, the part of you that now is set free. In this case, that I deserve to be happy, and that I am not responsible to make other people happy, and that what they do, or don't do is their choice. Everything happens for a reason, and of the 90 vehicles I could have looked at, this happened with the very first one I was really interested in and bought. Coincidence.. NOT 🙂
PS:
More realizations are coming up. The dealer and its employees did what they did and sold me the vehicle, either because they were afraid I would sue them, or they genuinely felt that I deserved a break. It's not for me to question their decision or to alter it as GUILT would have me do, but to accept it as their choice… And that it's my choice not to follow GUILT as some misguided form of love, of being nice, kind, considerate, compromising, ethics, principles, morality, righteousness, or religious values and judgments etc, etc..
11:45 am While my first thought about having the accident was that I had no choice, that I was the innocent victim, when I really think and feel into it, I realize that (on a Spiritual level) I made an agreement with the woman to have the accident and she with me. Not that the accident was the lesson, but that it would open the doors for what I needed to touch and heal.. So instead of blaming the woman, what I now feel is gratitude and love…
For those that don't really know me, what I'm doing here is sharing my healing process and journey.. The trials and tribulations I need to go through before I "get it" and am able to move on to the next mountain I need to climb..