It's interesting how the universe sets the stage and then slowly begins to shift your conscious awareness to what it wants to show you. A few days ago it was the banana thing and worrying about the food I eat. This morning I woke up thinking of food and how its been contaminated by GMO's and chemical pesticides We worry if the food we buy will harm our bodies and so we take as many precautions as possible and keep informed of the lasted round of tainted food.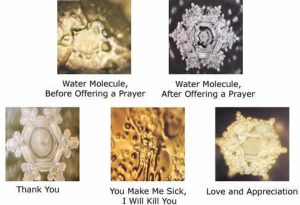 As I was thinking this, I suddenly had a thought that instead of worrying if a food is safe or not why not use INTENT and sound energy to remove anything that doesn't serve our body's highest purpose and good. This is not really new as Dr Emoto researched the effect of emotions and sounds on water and so have many other scientists.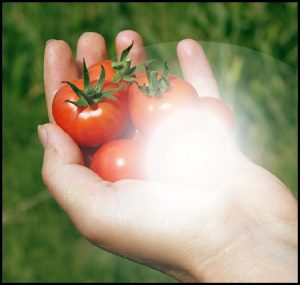 Our bodies and the food we eat are made up of mostly water and other chemicals, and – common to all is that they are all energy, but at different frequencies. So there is this LINK between us, our human bodies, and food and water that we presently need to survive, that needs to be explored. Even plants respond to the human energy field that either helps them flourish, or shrivel and die. For that matter, the same holds true for animals. As I'm typing this the word that keeps popping into my head is LOVE… LOVE is LIFE and everything is connected by love, including its absence in varying degrees or what is commonly referred to as "conditional" love.