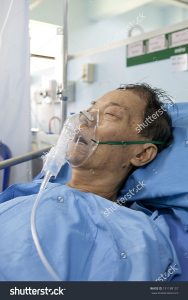 Back on March 21, the man who is acting superintendent of the building I live in was taken to the hospital. He was complaining of being dizzy, nauseous, and having low energy.  He was a heavy drinker and smoker, and not in the best of physical condition, so this trip to emergency was not unexpected. They admitted him and after four days, the doctors finally diagnosed him with double pneumonia and started the appropriate treatment.
After a week, he was still in the hospital and they were doing further tests as he was not responding to their treatments. On April 04, his brother knocked on my door, looking for the landlord so that he could get into the apartment to get some things that his brother wanted. He told me that his brother didn't look good and that the doctors were waiting to transfer him to the nearest BIG city hospital as soon as a bed was available.
Today, I heard that he had been transferred a couple of days ago, and that they had put him into an induced coma. I also head that yesterday, they brought him out of the coma to operate on him and that his heart had stopped two times during the operation. After the operation, they again put him back into a comatose state.  The doctors told his brother to get his things in order as they felt he was not going to make it, with no further comment.
I have mixed feelings with this. Not that he and I were friends as I really didn't know him, but my issue is with the hospitals and doctors and the way they have handled the whole thing. I just have an uneasy feeling  that while he was sick, he was not on deaths door….