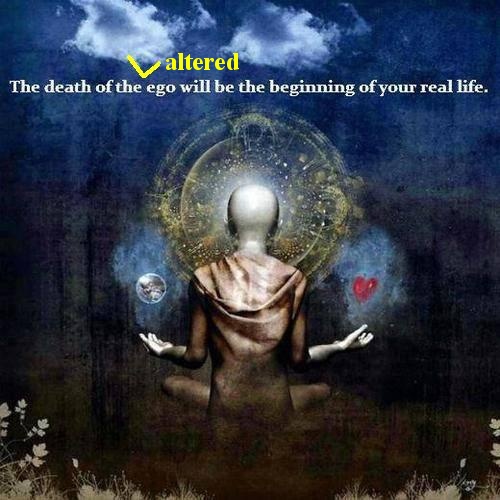 This is another picture/word message that I got off the internet. The original image words, "The death of the ego will be the beginning of your real life," is a part truth. As you can see, I've "altered" the image (no pun intended.) 🙂
The following article is taken from my soon to be published second book titled, "My Journey – Three Levels of Healing – Feeling, healing and understanding." The old "pre-published edition" can be downloaded ( free) from my website at http://shenreed.com/index.html
Our Ego has gotten a bum rap in that it's our Ego that defines who we are. Our ego is unique; it separates you from me and all the others. The problem is not our Ego but our Altered Ego, altered by our imprints, programs and beliefs and by the many other voices (internal and external) that tell it that it must do this or that to either be accepted or to be in control. Little does the Mind realize that in listening to these other voices, that it's being altered and controlled. The altered ego is the fake persona or personality that is in a position of power and control as it is not only in control of our Mind, but also the rest of our Being. It also strives to extend its influence and dominate the environment around it, be it people, places or things. The Altered ego is the individual that searches for acceptance and approval outside itself. It strives for success and recognition and defines who they are by their status, achievements, possession, wealth and power. There is also the opposite end where the individual will appear to be a powerless, helpless victim, but it is all an act in that by being considered a victim, they are actually dictating and controlling others around them.
The trouble is that while our Ego is altered, it is also disconnected from our Higher Self Spiritual source. Instead of communicating with our Higher Self, our Ego is being controlled by the unloving voices of the Inner Critic, guilt, shame and denied rage, to name a few. I'm sure that you've had several conversations with your Inner Critic when it is telling you what you should or shouldn't do. Once you begin to end your denials, the inner voices also begin to be silenced and your Ego then begins to communicate with your Higher Self, and that's when life gets interesting. Your Ego, your true self wants to free itself of the unloving grip of its old imprints, programs and beliefs and also of any unloving energy that has been, and is trying to control it.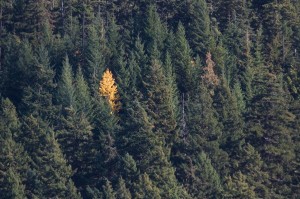 A rather simplistic way to look at our Ego is to compare it and ourselves to a tree. While a tree can be one of millions of similar species in a forest, it's still unique and has its own consciousness. If it were to try to become another tree, to have a different bark, leaves or fruit, or if it wanted to be bigger or change its position, then there would be issues, not only for it, but also for the other trees in the forest that it would affect as it tries to control and change its environment. Another simplistic, but classic example of an altered ego can be found in the tale of "The Ugly Duckling," by Hans Christian Andersen.