February 18 7:15 AM So in order to stop the cycle of death and reincarnation, and to bring all the presently untapped physical senses into reality, Spirit (Mind) has to begin to not only accept what the Body, Will and Heart are feeling in the present moment, but to also feel what happened to them  in the past. Spirit needs to go where it has never gone before and experience what it thinks will kill it, to a place where Will/Body were abandoned and left to die. It's Body (form) that holds the most denials as even the Will gradually has to leave it, not that she wanted to, but she had no choice.
Feb 18 1:10 PM Not that all of Heart left after Spirit left, as only the part of Heart that is Spirit polarized left, leaving the Will polarized part of Heart to die along with Body and Will. I just felt the heartbreak of both Spirit polarity Heart in having to leave the Body/Will, and the Will polarity of itself and how he felt he had no choice, and how Will polarity Heart, felt broken, betrayed, alone and a host of other feelings and emotions. Will polarity Heart was also trapped in a dying Body and quickly losing consciousness, meaning that the physical heart and circulatory system and blood were also dying, and in the process, cutting off possibility of physical life from the rest of the Body.
This is horrible! What a fucking heartbreaking waste!  I don't know what else I can call it as there are just too many feelings and words to describe what I just felt. It's all based on imprinting that goes back to the very beginning, to original Cause.
Before you can know what life is, you need to know what death is.

To know what love is, you need to know what is not love.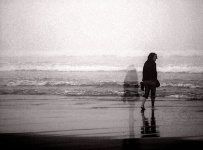 If any part of us is in denial of another part of ourselves, that part being denied is receiving death.  So how can we call what we are experiencing life, when a part of us is dying? Cutting off parts of us that are dying only means that we are losing more consciousness and essence. Eventually Spirit, that is electric in nature, also dies because without the Wills Magnetic essence there is no longer the compliment of forces necessary for Spirit/Will to co-exist. Without the Yin, there is no Yang.