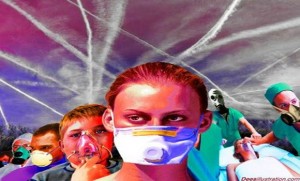 It's interesting as the other day I found this link on facebook… Chemtrail flu – Have you got it yet?
The article tied in with what I was thinking and feeling about my physical symptoms. The past couple of weeks with my back pain and not feeling up to par, I had the thought that what I'm feeling isn't natural as when I had aches and pains in the past, the antibiotics I'm taking built up my immune system and the Chiropractor would realign whatever was off with my back. But that is not the case now as this just seems to linger and linger and my back pains are also different as they come and go.
I've been noticing a lot of jets spraying their chemtrails and that also pisses me off. It seems like all levels of government, even the opposition members are in on this secret conspiracy to poison the planet and all upon it.