2012 May 15 I wanted to get a good look at a Toyota Rav's and Honda CR-V as I've never really checked them out. I decided to stop in at Regina Honda and struck up a conversation with a used car salesman. It just so happened they had three used Hondas on the lot, a 2004, a 2000 and a 1997. The 2004 was out for a test drive for the rest of the day so I looked at the 2000. It looked in good shape and only had 134,000 km on it. I took it for a test drive and liked it so I picked up some money to make an offer. After the third offer, I got it for 10% more than I wanted to pay, but 33% less than he the dealer was asking.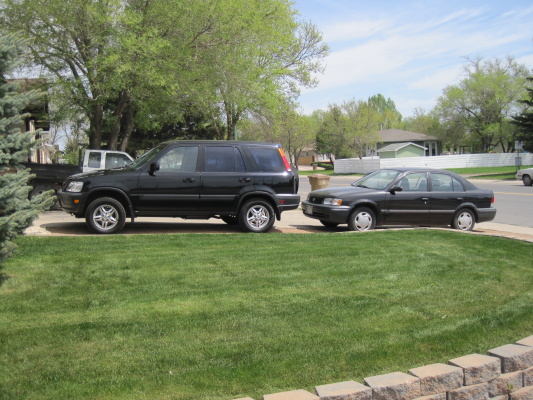 As I don't live in Saskatchewan, I had to get a temporary vehicle permit (either 1 day or 8 days) so that I could get the Honda back to my sisters place,. I took the 8 day permit as that  would also enable me to drive it a few days to see if any problems pop up. The permit is only good for Saskatchewan so I can't take it on my trip out West. Furthermore, I need to get another 7 day inter-provincial permit that is only good from Saskatchewan to wherever my home province is. That means I can't sell my Tercel before my trip and that I'll have to take my Toyota Tercel out West and then come back and sell it before I leave for Ontario. With all this, I decided to delete my planned trip up to the Yukon, as that will cut off 3 – 4 days of my trip and give me some time to sell the Tercel when I get back to Regina.
As you can see in the picture, the 2000 Honda CR-V is quite a bit bigger than my 1999 Toyota Tercel. Now I'll have room to move.