A couple of days ago, I was outside, on the other side of my apartment building, talking to a woman tenant, when the man that lives between us walked by. I said, "Hi," but he never acknowledged me, and just walking with his head down. I felt he was ticked off at me as I was sure he heard me.  We used to chat and tell jokes last fall, but over winter, I only saw him a few times on the street and we never talked. With spring coming and spending more time outside, I'd see him having a cigarette in the back yard, but when he'd see me, he'd turn and go back inside, At first I just thought he had finished and was naturally going in, but a couple of times, I called out to him but he never answered back. So this meeting today was a sure sign that something was amiss.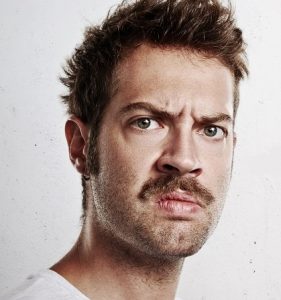 So the next day, when I heard him in his apartment, I went around and knocked on his door. After the third knock, he answered with a hostile,"What do you want?"
I asked, "Do you have a problem with me, as you feel you are ignoring me and angry about something?"
He angrily replied, "Do you want a problem?
I said, "Whoa, so you do have a problem with me. What's up?"
He barked, "If you want one you can have one?"  as he postured himself to make himself look bigger than he was.
I knew there was no talking to him in his denied rage, so I turned to leave and he, snarled, "You're the one who knocked on my door, I didn't knock on yours. You stay on your side and I'll stay on mine."
I didn't say anything as I walked around the corner and then around the building to see the landlord and his helper, that was working in the apartment of the man that had recently died.  I told them what had just happened and asked if they knew why he was angry at me. They looked surprised and said they never heard anything from him. We left it at that. What the hell is going on?