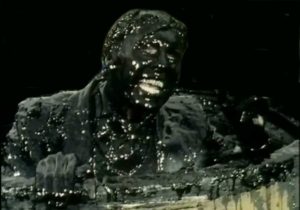 March 28 2:20 am –  I had a distributing dream. I saw a man, (I think it was me) with no legs, swimming and coated in this tar like substance. I say no legs as I never saw them, just his upper torso covered in this slime. He was swimming in a large tank, the size of a R/R car or small rectangular pool, and then would dive under and come up in another one. There were three tanks involved and he would go from one to another. I don't know what he was looking for or why he was in the tanks and covered in all this gooey slime.
It reminded me of a dream I had years ago when I saw a man with just a head and shoulders and one arm, dragging itself along. Later I recognized that it was me and what I was doing to my body in trying to get the Heart Centre up and running. At the time, my Mind was controlling my body and was not interested in its health. The thing that keeps coming to mind is that I still have old imprints, programs and beliefs attached to me, which is the slime. I'm also locked into (3 tanks) issues that I keep repeating. OK, So what are they?
2:50 am – House – Vehicle – Money
Are these the three issues (tanks) that I'm locked into and repeating?
House represents Safety – Vehicle represents Freedom – Money represents Power
And yes, these have old imprints, programs and beliefs as I feel I NEED them to live.
WOW! Now there is a statement.
I'm depending on the outside reality, or rather the illusion that I think is real for my life. To support me; my existence, my physical existence.
So what am I missing?
Hummm… Attachments. Just like the slime is attached to me, I'm attached to the slime (imprints, programs and beliefs)
So how can I release them as I have fear of losing anyone one of them as then, what will I do?
_________________________________________________________________
I just flashed to the Epigraph in my first book and a poem I channeled back in 2002.
Ignorance.
You fear what you do not know.
You protect what needs no protection
You love what you fear,
And you fear what you love
And do not know the difference.
Some say ignorance is bliss
Some say ignorance is hell.
__________________________________________________________________
Hummm….  Also the "Seek the doorway to eternal life" message keeps popping up in my mind.
I am thinking of the Heart Centre and losing my home and money, and knowing my vehicle was on the way out. And then living with Dave and Irene. Since then, I've lived on the edge of being homeless and it wasn't until I started receiving my pension and then moving into my present apartment just over 4 years ago that things got comfortable. Humm… Keyword… COMFORTABLE.
3:10 am  OK, another thought. Am I on the wrong track or train of thought? Something "feels" off.