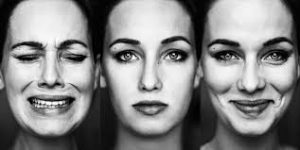 It's interesting as after the recent realizations and looking back on my life, I seriously doubt that my ex-wife was what the medical establishment classified as bi-polar disorder,  whose classic definition is a series of "emotional" ups and downs, as when they get what they want, they're happy and when they don't, they're sad.
I feel that we both suffered from childhood abuse or neglect, but we learned opposite techniques to try to solve our issues. She, being an only child, she was spoiled (imprinted and programmed) to act out so that she could get the superficial quick fix attention she desired to make her happy. My imprint and program was to do what I could to make others happy, as when they were happy, I was happy in that they weren't attacking and blaming me.  I now feel she is more of a Narcissist or having what they now LABEL as having NPD (Narcissistic Personality Disorder). Saying that doesn't mean that I approve or agree with the so-called medical establishment and their diagnosis and clinical solution for a person suffering with any of their labels.
________________________________________________________
A person with NDP is narcissistic personality disorder has the following characteristic traits:
Having an exaggerated sense of self-importance
Expecting to be recognized as superior even without achievements that warrant it
Exaggerating your achievements and talents
Being preoccupied with fantasies about success, power, brilliance, beauty or the perfect mate
Believing that you are superior and can only be understood by or associate with equally special people
Requiring constant admiration
Having a sense of entitlement
Expecting special favors and unquestioning compliance with your expectations
Taking advantage of others to get what you want
Having an inability or unwillingness to recognize the needs and feelings of others
Being envious of others and believing others envy you
Behaving in an arrogant or haughty manner
Sure, everyone has their days when they feel fine, and others days that are not so good, and still others that are just bad, but that doesn't mean we are helpless to overcome these experiences, maybe not in the moment, but when we are ready, and that may take years. Many look for a quick fix with drugs (including prescription) alcohol, smoking, sex, exercise, work, partying, food, hobbies, pets, music, reading, TV, shopping, cleaning, etc., etc.  It took me years to finally not only get to the root cause of some of my emotional issues and problems, but also learn how to heal them.