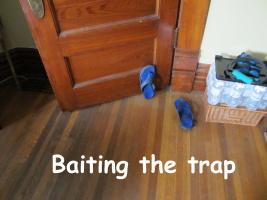 July 16 I had my suspicions that the rental property owners were going into my room when I was gone. To prove my hunch, I placed a flip flop against the door so that I could open the door far enough to get out and back in, without flipping the flip flop. I laid the trap and sure enough when I came back and slowly opened the door only enough to get my head in to take a peer, I saw that the trap had been sprung. Even more incriminating was the fact that the flip flop had not just fallen, it had been neatly stacked up on the other one and not where it should be, had they ,or I opened the door too far.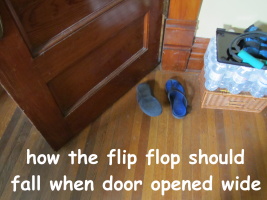 I went downstairs and rang the doorbell. The male owner came to the door just as his wife was coming up the walkway.I asked them both, "Why were you in my room?" They answered simultaneously, one saying they weren't in my room, and the other saying that they were just checking the A/C. Busted again. I told them they had no right to go into my room without my permission, or there being an emergency.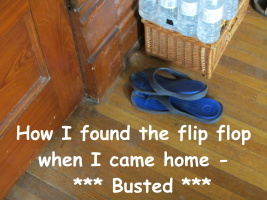 The A/C is something that can be checked anytime, so why wait until I am out of my room to do your check and what is there to check except to see that my vent is open. More bullshit.
The woman asked me, "So when are you leaving?" I replied, "When I find a place, I'll let you know."
Later I looked on Kijiji and found three places that "looked" okay, so I emailed them.