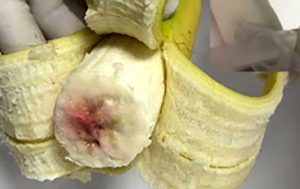 I love bananas but recently I've found two with weird stuff in them like in the picture. I don't know if I have inadvertently eaten any, but I know that from now on, I will be cutting my banana in half lengthwise before taking a bite.
I saw a red-purplish spot in the banana after I peeled it and thought it was a bruise, but there was no indication of one on the peel. I broke off a chunk and saw this inside. I can't remember the banana brand, but it was either Chiquita or Dole. It's bad enough that we have GMO products, but now they are purposely injecting disease into our food. WTF is the world coming to?
PS: Seems I was jumping to conclusions – and that it "appears" to be a fungus…  None the less, I'll be more wary of this issue..