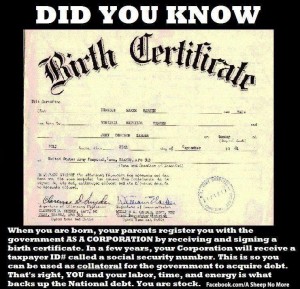 The government is a CORPORATION. Your birth certificate was created by the government as a way to track and control you. They could only do that by creating a corporation (Birth Certificate) to represent you. This corporate entity that was created is your STRAWMAN, it is only a piece of paper or listed in a computer. It is not you, your physical being. As a sovereign Human Being, you are now merely acting as an AGENT for this corporate entity that was created in your name..
All so-called LEGAL documents involving your strawman will always be in CAPITAL letters. CHECK it out. Your drivers license, Health card, Social insurance, and most importantly, all your CREDIT cards. You are not the entity listed in CAPITAL letters, although it will have your name. Your name as a sovereign being will only have the first letter as a capital, ie, John Smith. This is also how you write your name…
Mary Croft – Summary of HOW I CLOBBERED EVERY BUREAUCRATIC CASH-CONFISCATORY AGENCY KNOWN TO MAN
Here is a full length PDF of her work.. Mary Croft
Since Mary made this information available, there have been a ton of websites and posts disclaiming her information… Calling it a fallacy and ill advised nonsense..