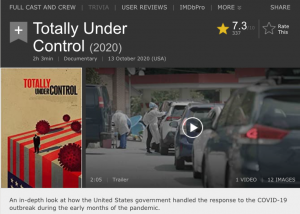 Totally Under Control (2020) – A NWO Propaganda movie…made in secrecy the past five months.I haven't seen it yet, so why do I say that, you may ask.
Think about it… Here it is mid October, and the "pandemic" was first mentioned in December of 2019 and took three months to get to "get out" to affect the rest of the world. No one had any idea if it was going to be any more serious than any previous flu. So riddle me this.
How did they "know" it was going to be "played out" as it was in advance of if happening… and is still happening. They had film producers and crews rolling, interviewing so-called scientific and medical experts and government officials, and gathering TV footage to portray the United States governments response to the COVID-19 outbreak during the early months of the pandemic. Not to mention the "pandemic" was/is ongoing or the time needed to edit and put the production together and bring it to market. This had to be pre-planned.
While it appears to have a US political motive, I see it as a made for TV docu-drama to further brainwash the public into believing the cover-19 "plandemic" is a global health crisis, which BTW has a 99.985% recovery rate. The movie, as far as the trailer goes, completely avoids mentioning the lockdown and the serious social implications it has, and is having: and hidden agenda of the NWO and total global control.    Here is a link to the movie Totally Under Control (2020)