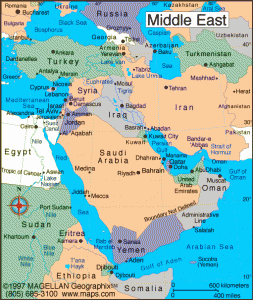 For the past couple of months I've had the feeling that Israel and the USA are getting ready to invade Iran. The present US political push to remove the Bashar al-Asad's government from power in Syria  would open the door to civil chaos and unrest like it did in Egypt and  Libya. It would be a catalyst for Israel to get involved in yet another conflict, not with Syria, per say, as that would only be a pretence, but with Iran, that has been a long-standing thorn in the side of Israel.
The slightest act, or perceived act of aggression from Syria,  toward Israel would be seen as an act of terrorism (by the USA and Israel) that would give  Israel the green light and so-called "grounds"  to invade Syria,  the same way it ruthlessly invaded Lebanon back in 2006/2007  
Once Israel invades Syria, it's only a short hop across Iraq (US controlled) to the borders of Iran. While Israel would focus on a Northern push against Iran, the Americans would rattle their sabers in the Persian Gulf, as well as in Afghanistan, thus executing a three-pronged attack upon Iran and if, not if, but when, either Israel, or the US decides to launch an attack on Iran, all hell will break loose.
US Dept of State facts and figures on Syria   Read between the lines…  to find the truth that is hidden