While I was waiting for our Oct 30, Tuesday, night dance class to begin, Linda, (my teacher) came over and gave me an envelope containing a birthday card, signed by the people that worked at the studio. It was very touching. It was difficult telling her that I would not be coming back as a part of me really was enjoying it. I also talked to my dance partner, Mila, and told her I was not going to come back and she said that she too wasn't coming back as she was moving at the end of November, and was going to be too busy.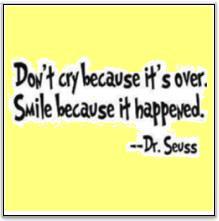 On Thursday, Nov 01 , I went to my level 1 class and really had fun as I felt that things were finally coming together. I guess the Tuesday night classes are like a practice for me as they are level 2. There's a part of me that really wants to carry on, but I also know that it won't work out. Sharon, my level 1 partner said she was going to carry on, but in a different class.
Later that evening I checked into facebook and saw a image with a simple phrase by Dr Suess that resonated with me. "Don't cry because it's over, smile because it happened." I felt it was important as it related to the dance lessons, but I still wasn't sure just how.